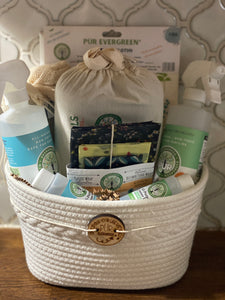 IN THIS SET, YOU WILL GET:
 PÜR Evergreen Happy Hippie Color 6 LARGE Wool Eco Dryer Balls
All-natural organic fabric softener made from 100% premium New Zealand wool.
Our beautiful natural set of 6 extra-large wool balls, comes in a hand sewn organic cotton bag.
The movement in the dryer will help separate your towels, clothing items and sheets causing the air and heat to circulate and dry faster. As your laundry dries, the dryer balls will fluff and evenly dry, eliminating wrinkles and reducing static while providing a softer feel to your fabrics.

We worked closely to a wonderful fair-trade company that our organic wool dryer balls are individually hand-felted by artisan women in Nepal and creating employment to help these women to support themselves and their families. They are receiving fair wages and salaries and have good working conditions.
     * 100% natural and eco-friendly,
     * Biodegradable,
     * Compostable,
     * 100% waste free.
     * They reduce drying time by up to 40%, while leaving your clothes extremely soft and fluffy.
     * Chemical free, with no fillers or additives, unscented, non-toxic, and hypoallergenic, great for those with allergies or sensitive skin.
     * PÜR Evergreen Happy Joyful Natural Wool Dryer Balls can be used up to 1000 loads!
For slightly scented laundry, add a couple of drops of your favorite essential oil to each of the wool dryer balls.

Save money, energy and time with using our hand-crafted wool dryer balls.
PÜR Evergreen® Swedish Dishcloth 4 pack Set
The original Swedish dishcloth material was invented by a Swedish engineer in 1949. 
PÜR Evergreen dishcloths are made with this same material: 70% wood cellulose from FSC certified forests and 30% cotton.
We take pride in our natural sustainable products.
PÜR Evergreen® Swedish Dishcloths can be machined washed up to 200 times and hung dried for best results.
They can be used for washing dishes, wiping down surfaces, used on your body as a wash cloth or makeup remover and so much more!
Best of all they are biodegradable! 
PÜR Evergreen® All-Natural Cleaner DUO Collection
This is a perfect size collection to get you started in your journey to having a happy healthy home. Our natural cleaner kills up to 99.9% of bacteria and germs. ( 
According to the CDC , hydrogen peroxide is effective at removing microorganisms, including bacteria, yeasts, fungi, viruses, and spores, making it a good choice for cleaning) 
This collection is a combination of Sassy Spearmint and Eucalyptus Mint that will bring a fresh scent in your showers and your whole home without the harmful chemicals.
This set is also great for if you would like to have it in multiple locations of your beautiful home.
Be sure to check out our refills!
This amazing set will help save space under your sinks and you will be saving a lot of money. Replace all your other cleaners with just one cleaner.
This beautiful collection comes with a wonderful smelling fresh scent comes with:
     * One -2 fl. oz refill bottle of Eucalyptus Mint
     * One -2 fl. oz refill bottle of Sassy Spearmint
     * One-16oz high quality Sassy Spearmint empty refill spray bottle       
     * One-16 oz high quality Eucalyptus Mint empty refill spray bottle.
Imagine the money you can save with one product! It even cleans stainless steel! Each 2-ounce bottle can make two 16oz spray bottles.
Ingredients: 
Purified water, Coco-betaine, Sodium Lauryl Sulfate, Picea Glauca Leaf Oil, Citric Acid, Decyl Glucoside, Food Grade Potassium Hydroxide, Hydrogen Peroxide, 100% organic essential oils Eucalyptus (Eucalyptus radiata) Spearmint (Mentha Spicata) 
* For a stronger cleaner use more of the concentrate. 
The Best Natural Beeswax Reusable Food Wraps Warm Spring
3-Pack by PÜR Evergreen®
1 SMALL( 8X8), 1 MEDIUM (10X10), 1 LARGE(13X14)
AN ECO-FRIENDLY,  SUSTAINABLE WAY TO STORE YOUR FOOD:
These Natural Beeswax Wraps are perfect for storing veggies, fruit, bread, cheese, snacks, covering items using it as a lid or even using it on the go for your adventures. Make a on the go dog bowl, use as a piping bag for frosting, there are endless uses for them! These natural beeswax wraps are a great way to reduce the use of plastic. 
EASY TO USE:

 

Use your warm hands to apply the natural beeswax food wraps and pressure to help soften and mold the beeswax wrap. Mold the wrap over your fruits and vegetables or use it as a lid to cover a container. Use it for a make shift bag to hold snacks in. In a few seconds, the beeswax food wrap will form a tight seal or hold around the item. This seal helps keep your food fresh for longer periods of time.

EFFORTLESS TO CLEAN:

 

So easy to get these natural beeswax food wraps clean. Put a small amount of mild dish soap on the wrap and rinse under cold water. Once your wrap is clean, leave it out to air dry and store in a location of your choice.

A ZERO WASTE SOLUTION:

 

Our natural beeswax food wraps 

are made

 with natural, organic cotton fabric, beeswax, tree resin and jojoba oil

. These all natural and non-toxic ingredients help form a wrap that is sturdy and reusable. These have been made with lots of love.  These wraps are 100% biodegradable and are safe for the environment too.

CONVENIENT SIZES:

 

Each package contains three beeswax wraps: 1 Small (8.8), 1 Medium (10x10) and 1 Large (13X14). Whether you are looking to have a size option for carrying fruits and vegetables and snacks on the go. Or if you want a sustainable lid for your containers, we have a size that will fit your specific needs. Be on the look out for more sizes coming soon! 
BELLY BANDS: We wanted to give you an additional gift. Our beautiful belly bands that are wrapped around the natural beeswax food wraps have seeds in them. Garden vegetables and flowers. You can use the belly band, tear it up and plant the seeds. No waste! We wanted to give a gift that grows. 
Produce Bags / Toy Organic Cotton Mesh Bags Zero Waste


Our reusable organic cotton mesh produce bags are made from 100% cotton and make a great addition to any eco-friendly product line.  Every bag is guaranteed high quality, made with the finest cotton ethically sourced from India. Our organic cotton mesh produce bags are not only soft to the touch, but also durable and up to the task of carrying produce ranging from fruit of every kind, veggies potatoes and more. You can even add kids toys to throw in there to wash in the dishwasher. 
Giving you zero waste for your home. No more plastic bags!
Size: 10x12 inches
Quantity in Package: 3
Some of these great uses include:
Reusable shopping

 for veggies and

 fruit
Use to put kids toys in and throw in the dishwasher to clean toys. 
Lightweight alternative to glass jars for bulk shopping
Storage bags for produce with breathable cotton to help fruit and veggies breathe in the fridge and reduce molding
Storage bags to keep greens fresh by simply dampening the bags before filling
EXTEND THE LIFE OF YOUR PRODUCE
Our reusable mesh produce bags are incredibly versatile and easily washable, allowing for extended reusability in the kitchen. The cotton mesh produce bags are perfect for storing vegetables and greens and also shopping for bulk items at the grocery store. Not only are they great for shopping, but the reusable net produce bags also make for perfect food storage bags in the fridge. Everyone knows fridges are designed to keep food cool and preserved, but what they may not know is they are often dry, and this causes greens to wilt. The cotton fabric and design of the reusable net produce bags let food and produce breathe, reducing the risk of molding, and wilting while food is stored. To keep greens from drying out, simply dampen the bag before loading it with your favorite greens. With this simple trick for our cotton mesh produce bags, you will have crispier lettuce for your favorite salads.
Amazing Product!!!
In a toxic world it just makes me happy to eliminate our exposure whenever possible. I couldn't recommend this product enough! It works great, smells good, and makes me feel like I'm wasting less plastic (because of the awesome concentrated solution) and making my world a little bit healthier.