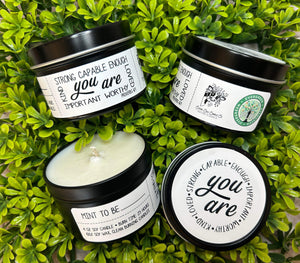 PÜR Evergreen and Clever Cow Candle Co partnered up to bring you a clean candle! Clever Cow Candle only uses clean ingredients, including 100% soy wax, cotton wicks, and clean ingredients. 
 
This cute tin of refreshing Mint soy candle  goodness! 
🌱 vegan & gluten free
🌱 cruelty free
🌱phthalate-free
🌱petroleum-free
🌱non-carcinogenic 
🌱non-toxic 
🌱biodegradable 
If you have loved our Sassy Spearmint aroma you will love this uplifting candle of PÜR refreshment!