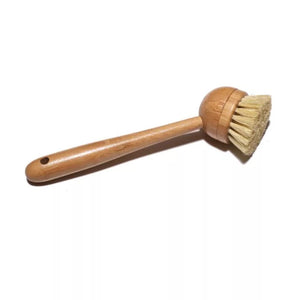 Long handle bamboo brush with replaceable head. Zero waste. 


Directions: after each use remove the head of the brush to dry so mold doesn't form on this natural product. 
1: Bamboo is a renewable resource, which conforms to the consumption concept of people in the 21st century.Is an environmentally
friendly choice.
2: The articles made from bamboo are safe and harmless, and can be safely used.
3: The bamboo is easy to process, suitable for customized products.
4: The bamboo has a natural and beautiful pattern, and the products made are exquisite and unique.
Kitchen Essentials Bundle is amazing!
I LOVE the Essentials Kitchen Bundle. Comes with everything shown in the picture! The brushes have held up well in the month I've had them, with 2 boys and a husband in the house, and I feel good about the fact they are sustainable and I'm not having to replace disposable sponges every 3-4 weeks! I make sure to remove the top of the smaller brush (and let it air dry between uses) so that mold doesn't grow between the small handle and the base of the brush (very easy to do!)
The produce bags are amazing and I've noticed an improved lifespan of my produce by using these bags vs the plastic container/bags that they come in from the grocery store. Would 100% recommend these products, esp if you're concerned about the Environment and you want to save $$$ in the long run (who doesn't want to do that??!!)