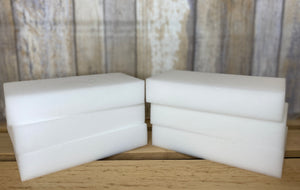 Fairy Sponges™ are great for cleaning bathrooms, kitchen sinks, messes and more. This pack of six fairy sponges will make a difference in your cleaning. 
e͟x͟a͟c͟t͟l͟y͟ l͟i͟k͟e͟ t͟h͟a͟t͟ b͟a͟l͟d͟ g͟u͟y͟'s p͟r͟o͟d͟u͟c͟t͟
The fact that they are naturally derived and made 𝘼𝙉𝘿 they're effective!? 5 stars, all day.
Love Them
My teen son cleans our offices and he loved the magic eraser sponges. When we ran out of them, he was disappointed when I told him we would be trying something new, until he tried these sponges. He loves them so much! We highly recommend them, especially paired with Pur Evergreen's sassy spearmint all natural cleaner!