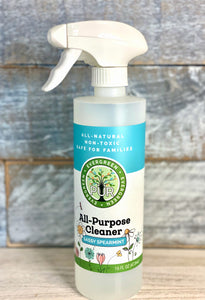 This beautiful, fun Sassy Spearmint 16oz EMPTY spray bottle is great for using our 2 fl oz Sassy Spearmint refills.
One cleaner that cleans everything! Save space by having one spray bottle and not 15!
When you get low just order the wonderful all natural refills for your spray bottle saving you money each time!
Be sure to check out our special collection.
Pur Evergreen
I love how it cleans, it can be used on many surfaces. Our clients love the smell as well 😊
I love these spray bottles so much!
The spray bottles have such a nice spray and the handles feel so sturdy. The nozzle is so effortless to squeeze and my hands don't get tired like they do with other bottles. Highly recommend them and I also highly recommend the Pur Evergreen cleaner as well!
Best cleaner ever
I love using this product and so does my clients. The smell is amazing and fresh. I will never by store products again.