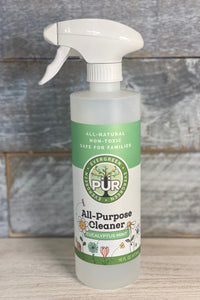 PÜR Evergreen® Already filled and ready to rock and roll.
This beautiful, high quality, fun Eucalyptus Mint 16oz FILLED spray bottle is great for needing it now.
This amazing all-natural plant-based cleaner will clean everything in your home and 99.9% of  microorganisms, including bacteria, yeasts, fungi, viruses, and spores, making it a good choice for cleaning. According to the CDC , hydrogen peroxide is effective at removing which we have as an active ingredient! 
Ingredients: 
Purified water, Coco-betaine, Sodium Lauryl Sulfate, Picea Glauca Leaf Oil, Citric Acid, Decyl Glucoside, Food Grade Potassium Hydroxide, Organic Food Grade Hydrogen Peroxide, 100% organic essential oils Eucalyptus (Eucalyptus radiata) Spearmint (Mentha Spicata) 
(Sodium Lauryl Sulfate) ( safe soap) is derived from vegetable oils, that cuts grease while generating suds. SLS is often confused with SLES (Sodium Laureth Sulfate) ( Bad soap) which can be contaminated with trace carcinogenic dioxanes. SLS has no such issues.
"We are upfront and honest" about what goes in our products and take pride for being all natural. You can find our SDS sheet simply by doing a search to pull it up. 
Buy our 2 fl oz Eucalyptus Mint refills.
One cleaner that cleans everything! Save space by having one spray bottle and not 15!
When you get low just order the wonderful all natural refills for your spray bottle saving you money each time!
**Be sure to check out our special collection.