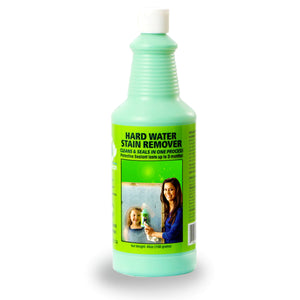 Description
Net weight: 20.3oz ( 575 grams) Per bottle.
Bio-Clean Hard Water Stain Remover cleans your shower doors, windows, glass and even pots and pans.
Bio-Clean Hard Water Stain Remover cleans your shower doors, windows, glass and even pots and pans. This incredible product is abrasive based and made from a non-chemical compound. Rest assured, the WST40 is unlike any other cleaning product out there and performs to your heart's content.
Bio-clean effectively removes: Water spot stains Mineral deposits, Soap scum, Mildew, Rust, Tree sap, Paint over spray, Oxidation deposits.
Works great on: Shower doors, Chrome, Windshields, Tile & Fiberglass Porcelain, Windows, Boats, Glass, surfaces Hard, vinyl, Stainless Steel, Corian, Anodized brass & Aluminum, Pots & Pans (non-stick).
This professional strength cleaner is recommended for use in hospitals, nursing homes, manufacturing plants, hotels, supermarkets and public facilities with surfaces that need cleaning and need to stay clean! Perfect for Cleaning Companies.

DIRECTIONS: Clean surface with a damp towel to remove dirt and grimes to avoid scratching and permanent damage. Apply to surface with a dry cloth, sponge, soft bristled brush or oscillating buffer. Press firmly, loosening stain with a circular rubbing action. Rinse with water until residue free. Dry with cloth or paper towel. Repeat application as needed until surface is clean and spot free. Use non-abrasive nylon pad of tile, porcelain and obscure glass.

WARNING: Can cause eye and skin irritation. Do not get in eyes, on skin, or on clothing, or swallow. Avoid contamination with food and beverages. Keep away from children. Do not reuse empty container. Dispose of empty container in a plastic bag and trash immediately. Only use on surfaces unharmed by mild abrasives. Supplier shall not be held liable for any damages, injuries or repercussions of product misuse beyond the return purchase price.

STATEMENT OF PRACTICAL TREATMENT: In the event that the product contacts your eyes, flush immediately with water and seek medical attention if irritation persists. If swallowed, immediately drink large quantities of water to flush it out of your system. Call a physician immediately.

CONTAINS: LAS Complex CAS# 27176-87-0, Surfactant CAS# 9016-45-9, Silica Flour CAS# 14808-60-
Absolutely BLOWN AWAY
I have tried all the products (non-toxic and otherwise) to clean the haze, grime, water spots and film from my shower door and shower windows. I've just always had to settle for dirty and gross-looking glass. I tried this Bioclean Hard Water Stain Remover and within seconds of using a cloth and some of the product, it was like it just melted off of the glass door! Now it sparkles like I've NEVER seen and it was near effortless to scrub! It is gorgeous! AND....my lungs did not hurt whilst cleaning it. No sneezing or harmful odors for me anymore, this product is truly a life saver!
Bioclean Hard Water Stain Remover
I really like this product! It works pretty good against the tough hard stains found in showers, sinks and toilets. I was impressed to see it removing underwater rust discoloration from toilet bowls. Definitely recommend.
Best stuff EVER!!!
This hard water strain remover is wonderful!! I have triedfor over a year to get a shower door clean with no luck until I bought this. The door has been this way for 5plus years. I highly recommend giving this a try! You won't regret it!! Thank you Kimberly
Truly amazing
This product works! I could not believe it took the hard water spots off the glass door! Tysm for introducing me to this product!
Bioclean
Amazing cleaning product. Thanks to Kimberly for introducing it to me. I absolutely love it!