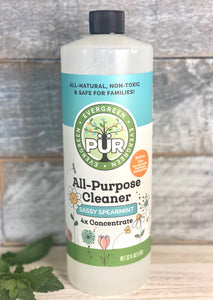 This amazing all-natural plant-based cleaner will clean everything in your home and 99.9% of  microorganisms, including bacteria, yeasts, fungi, viruses, and spores, making it a good choice for cleaning. 
According to the CDC , hydrogen peroxide is effective at removing which we have as an active ingredient! 
THIS 32oz can fill close to 122 16oz bottles.
Ingredients: 
Purified water, Coco-betaine, Sodium Lauryl Sulfate, Picea Glauca Leaf Oil, Citric Acid, Decyl Glucoside, Food Grade Potassium Hydroxide, Hydrogen Peroxide, 100% organic essential oils, Spearmint (Mentha Spicata) 
(Sodium Lauryl Sulfate) ( safe soap) is derived from vegetable oils, that cuts grease while generating suds. SLS is often confused with SLES (Sodium Laureth Sulfate) ( Bad soap) which can be contaminated with trace carcinogenic dioxanes. SLS has no such issues.
"We are upfront and honest" about what goes in our products and take pride for being all natural. You can find our SDS sheet simply by doing a search to pull it up. 
The Sassy Spearmint has a refreshing scent to bring happiness throughout the home.
This 32 oz bottle of 4x concentration is perfect for cleaning companies, janitorial companies and for your home! The 32oz bottle makes around 120 16oz bottles. Saving you HUGE amount of money. 
 * * This will cost you under $.50 for refills saving you a TON of money and space. This replaces the gallon jug. 
Awesome product!
We use PUR evergreen disinfectant Spearmint concentrate for almost all our cleaning needs. I own a cleaning business and this is our main disinfectant that we use for 95% of our surfaces. Safe to use on almost anything and the concentrate bottle lasts us forever ! Love it!
One step cleaner!
I'm so happy to have found this product!! It makes my cleanings so much faster as I don't have to consistently grab a different cleaner to use. It is so versatile and smells great!
Say Goodbye to Multiple Cleaners: Streamline Your Home Cleaning with PÜR Evergreen
This cleaner works great on all the surfaces in my house including the floor! I was especially impressed on how well it cleaned glass ... without leaving any smudges! I really love the fact that I now only need one cleaning solution in my house.
Best cleaner out there!
I have literally tried hundreds of cleaning products and this is the best. You won't regret it!
Excellent
Excellent product with excellent customer service!