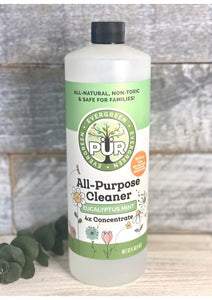 This amazing all-natural plant-based cleaner will clean everything in your home.
The Eucalyptus Mint has a refreshing scent to bring happiness and uplifting moods  throughout the home.
This amazing all-natural plant-based cleaner will clean everything in your home and 99.9% of  microorganisms, including bacteria, yeasts, fungi, viruses, and spores, making it a good choice for cleaning. 
According to the CDC , hydrogen peroxide is effective at removing which we have as an active ingredient! 
Ingredients: 
Purified water, Coco-betaine, Sodium Lauryl Sulfate, Picea Glauca Leaf Oil, Citric Acid, Decyl Glucoside, Food Grade Potassium Hydroxide, Organic Food Grade Hydrogen Peroxide, 100% organic essential oils Eucalyptus (Eucalyptus radiata) Spearmint (Mentha Spicata) 
(Sodium Lauryl Sulfate) ( safe soap) is derived from vegetable oils, that cuts grease while generating suds. SLS is often confused with SLES (Sodium Laureth Sulfate) ( Bad soap) which can be contaminated with trace carcinogenic dioxanes. SLS has no such issues.
"We are upfront and honest" about what goes in our products and take pride for being all natural. You can find our SDS sheet simply by doing a search to pull it up. 
This 32 oz bottle of 4x concentration is perfect for cleaning companies, janitorial companies and for your home! The 32oz can make around 120  16oz bottles! Saving you a ton of money for refills! 
 * * This will cost you under $.50 for refills saving you a TON of money and space. This replaces the gallon jug. 
Amazing!
PUR Evergreen has changed the way I will clean forever. It will save me not only money, but time and effort as well. It's as simple as spray & wipe & done! I was shocked after the first time I used it at how quickly and effectively it worked. Will be my first choice from now on
Love love love
The best cleaner out there!!!! A must try!!!
First bottle
We have just started using and it works as advertised
Will have more info in the next month.
So far so good 😊
Amazing Product!
I run a cleaning business and I am in the process of transitioning to this cleaner. It is amazing! It works fantastic and leaves the clients homes smelling like a high end hotel. I have been on the hunt for an all natural cleaner that actually works and this cleaner actually fits the bill and than some! Thank You!
Phenomenal Product
I recently discovered Pur Evergreen, an eco-friendly and natural cleaning solution that has completely transformed the way I clean my home. Not only is it good for the environment, but it is also incredibly beneficial for my health and the overall well-being of my living space.
I was pleasantly surprised by the effectiveness of Pur Evergreen. It effortlessly tackles dirt, grime, and stains, leaving my surfaces sparkling clean. Whether it's my kitchen countertops, bathroom tiles, or even my floors, this cleaning solution gets the job done without any extra effort on my part. It truly lives up to its promise of providing a deep and thorough clean.
Another aspect that I love about Pur Evergreen is its pleasant and refreshing scent. Unlike traditional cleaning products that often leave behind a strong chemical odor, this solution has a subtle and natural fragrance that leaves my home smelling clean and fresh. It's a small detail, but it makes a significant difference in creating a welcoming and inviting atmosphere.
I also want to commend Pur Evergreen for their exceptional customer service. They are responsive, knowledgeable, and genuinely care about their customers' satisfaction. It's evident that they are passionate about their product and are dedicated to providing a positive experience for their users.
Pur Evergreen is a game-changer in the world of cleaning solutions. Its eco-friendly and natural formula, combined with its effectiveness and pleasant scent, make it a standout product. If you're looking for a cleaning solution that is good for your health, your home, and the environment, I highly recommend giving Pur Evergreen a try. You won't be disappointed!