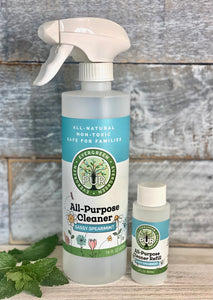 PÜR Evergreen® All Purpose Cleaner Collection Set Sassy Spearmint
This is a perfect size collection to get you started in your journey to having a happy healthy home.
PÜR Evergreen® All Purpose Cleaner Collection Set in Sassy Spearmint is great if you are just wanting to test the waters with our product. But we know you will love it so much you will want to come back for more!
This amazing all-natural plant-based cleaner will clean everything in your home and 99.9% of  microorganisms, including bacteria, yeasts, fungi, viruses, and spores, making it a good choice for cleaning. According to the CDC , hydrogen peroxide is effective at removing which we have as an active ingredient! 
Purified water, Coco-betaine, Sodium Lauryl Sulfate (SLS) , Picea Glauca Leaf Oil, Citric Acid, Decyl Glucoside, Potassium Hydroxide, Organic Food Grade Hydrogen Peroxide, organic essential oils and natural plant based soaps.
(Sodium Lauryl Sulfate) ( safe soap) is derived from vegetable oils, that cuts grease while generating suds. SLS is often confused with SLES (Sodium Laureth Sulfate) ( Bad soap) which can be contaminated with trace carcinogenic dioxanes. SLS has no such issues.
Save space under your skin and keep money in your pocket.  With our All-purpose cleaner you won't have to buy multiple cleaners for the different rooms of your home.  Everything can be cleaned with this one bottle of PÜR Evergreen® All Purpose Cleaner Collection Set in Sassy Spearmint.
This beautiful collection includes a wonderful smelling fresh scent of a 2 fl oz refill bottle of Sassy Spearmint. It also comes with a 16oz high quality Sassy Spearmint EMPTY refill spray bottle.
The 2 oz bottle can make two 16 oz bottles.  When it's empty just buy the refills. Great to leave in your shower and spray it down after each use leaving it refreshing! 
Amazing product!
I absolutely love this product!!! It works so good on everything. And it smells awesome!!!
Works great!
I am a professional cleaner and I have used a lot of products over the years. I really like this cleaner and all my girls do as well! My only complaint is I feel like just a cap full is not good enough and the product is very watery. I end up having to put about a cap and a half to two cap fulls in a 32oz bottle and it is so much better. The quality of this product is great and it works really well and I love that its a clean alternative to other products out there. All though it is expensive, it is definitely worth the price, due to how long it lasts!
Thank you!!!! 😊😊😊😊😊😊😊😊 love love love
Fantastic product!
This cleaner smells fantastic. It cleans well on all surfaces and even leaves mirrors streak free. We appreciate the morals of this company and, with the transparency involved in their practice and products, we will continue to support this Pur Evergreen!
Works and smell like a dream!
I've tried MANY natural brands and they've All fallen flat whether it was the functionality of the smell but this stuff is a 10/10 on both of those levels! I get excited to wipe the counters off now because I love the smell so much!
It works so well for kitchen grime, bathrooms and even as a spray on detergent booster. I love it so much!